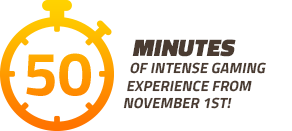 Give a meaningful gift in November!
You can also do something good with an Exit The Room Gift voucher. After every gift voucher sold until 20th of November, 10 € will be donated to UNICEF Österreich and will buy a "School in a box" to help improve education!
Graz
Klagenfurt
Linz
Salzburg
Vienna

ENJOY THE ESCAPE ROOM WITH COWORKERS, FRIENDS OR FAMILY.
ADVENTURE
This is your own story! Make it an adventure and fill the role of the main character.
BRAIN-BENDING GAMES
Find your inner detective and solve the case! Get creative, find your hidden talents and prepare for surprises!
BUILD THE BEST TEAM
Escape games are the new great method for team building. Everyone needs to stick together to solve the mystery.
Super! Do it, great fun! It is challenging, creative and worth the money. Staff is nice, helpful and explains all you need to know.
Christian V
This was a great addition to our munich stay. The kids loved it and really got into the game. So much is virtual nowadays and this was a real situation to stretch the brain
Catb
The escape rooms were very cool and advanced! Many nice riddles and lots to find out. We had a great time Solving them! Very much appreciated!
MarkLichteveld
ESCAPE ROOM Vienna
Vienna
Graz
Klagenfurt
Linz
Salzburg
Vienna
Difficulty