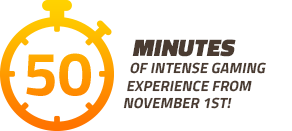 Don't miss it!
New Year's offer
Escape Game gift voucher
prices for 2-6 PLAYERS start from 69.90 €!
Graz
Klagenfurt
Linz
Salzburg
Vienna

ENJOY THE ESCAPE ROOM WITH COWORKERS, FRIENDS OR FAMILY.
ADVENTURE
This is your own story! Make it an adventure and fill the role of the main character.
BRAIN-BENDING GAMES
Find your inner detective and solve the case! Get creative, find your hidden talents and prepare for surprises!
BUILD THE BEST TEAM
Escape games are the new great method for team building. Everyone needs to stick together to solve the mystery.
The escape rooms were very cool and advanced! Many nice riddles and lots to find out. We had a great time Solving them! Very much appreciated!
MarkLichteveld
We had to convince our teenagers and twenty "somethings" to do this game. I think they thought it would be too easy. But that was far from the truth. Not only was it super fun but really taxed our brains as well. I would recommend it to any teenager or adult. We all had a great time!
Danna C
Very good experience ! - friendly instructor - nice idea - good for teambuilding activities as you need to talk to each other a lot
NB4554
ESCAPE ROOM Vienna
Vienna
Graz
Klagenfurt
Linz
Salzburg
Vienna
Difficulty