GIVE AN UNFORGETTABLE
EXPERIENCE FOR
YOUR LOVED ONES!
Exit the room gift voucher
from 20€ PER PERSON!
We have a new Escape Room:
Sherlock
Bürs (Vlbg)
Graz
Klagenfurt
Linz
Salzburg
Vienna
Online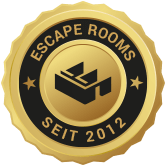 ENJOY THE ESCAPE ROOM WITH COWORKERS, FRIENDS OR FAMILY.
ADVENTURE
This is your own story! Make it an adventure and fill the role of the main character.
BRAIN-BENDING GAMES
Find your inner detective and solve the case! Get creative, find your hidden talents and prepare for surprises!
BUILD THE BEST TEAM
Escape games are the new great method for team building. Everyone needs to stick together to solve the mystery.
I was a little bit sceptic about this game. After we managed to get out, I realized that I didn't feel how the time was gone and how fun it was. Тhe game requires concentration, analytical thiking, simple math and team work to do it. Qualities that you can use all together for one hour and see the result. I recomend to try the game out. P.S It doesn't matter which country your comming from, you do not need more than A1 English to play
irina_burmova
We had to convince our teenagers and twenty "somethings" to do this game. I think they thought it would be too easy. But that was far from the truth. Not only was it super fun but really taxed our brains as well. I would recommend it to any teenager or adult. We all had a great time!
Danna C
It is challenging, funny and exciting! Playing games in real instead of using a Playstation - you really feel human again!
s99016
ESCAPE ROOM Graz
Graz
Bürs (Vlbg)
Graz
Klagenfurt
Linz
Salzburg
Vienna
Online
Difficulty