GIVE AN UNFORGETTABLE
EXPERIENCE FOR
YOUR LOVED ONES!
Exit the room gift voucher
from 20€ PER PERSON!
We have a new Escape Room:
Sherlock
Bürs (Vlbg)
Graz
Klagenfurt
Linz
Salzburg
Vienna
Online
Live-Avatar
Online Escape Room
Have you heard of it? Have you tried it yet? Authentic escape room experience, from the comfort of your home.
Gift an amazing experience to a friend or a loved one.
AS WE HAVE A LOCK-DOWN TILL FEB 08th WE CAN NOT HOST ANY GAMES
AT OUR SITES DURING THIS TIME.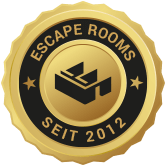 ENJOY THE ESCAPE ROOM WITH COWORKERS, FRIENDS OR FAMILY.
ADVENTURE
This is your own story! Make it an adventure and fill the role of the main character.
BRAIN-BENDING GAMES
Find your inner detective and solve the case! Get creative, find your hidden talents and prepare for surprises!
BUILD THE BEST TEAM
Escape games are the new great method for team building. Everyone needs to stick together to solve the mystery.
This was a great addition to our munich stay. The kids loved it and really got into the game. So much is virtual nowadays and this was a real situation to stretch the brain
Catb
It is challenging, funny and exciting! Playing games in real instead of using a Playstation - you really feel human again!
s99016
We had to convince our teenagers and twenty "somethings" to do this game. I think they thought it would be too easy. But that was far from the truth. Not only was it super fun but really taxed our brains as well. I would recommend it to any teenager or adult. We all had a great time!
Danna C
ESCAPE ROOM Graz
Graz
Bürs (Vlbg)
Graz
Klagenfurt
Linz
Salzburg
Vienna
Online
Difficulty